Who won the WWdN West Cost Warmup #2

Talked about on Wil Wheaton's Blog?

PokerStars Tournament #15191208, No Limit Hold'em
Buy-In: $10.00/$1.00
72 players
Total Prize Pool: $720.00
Tournament started - 2005/11/17 - 22:30:00 (ET)

Dear Rylenor,

You finished the tournament in 1st place.
A $216.00 award has been credited to your Real Money account.


Congratulations!
Thank you for participating.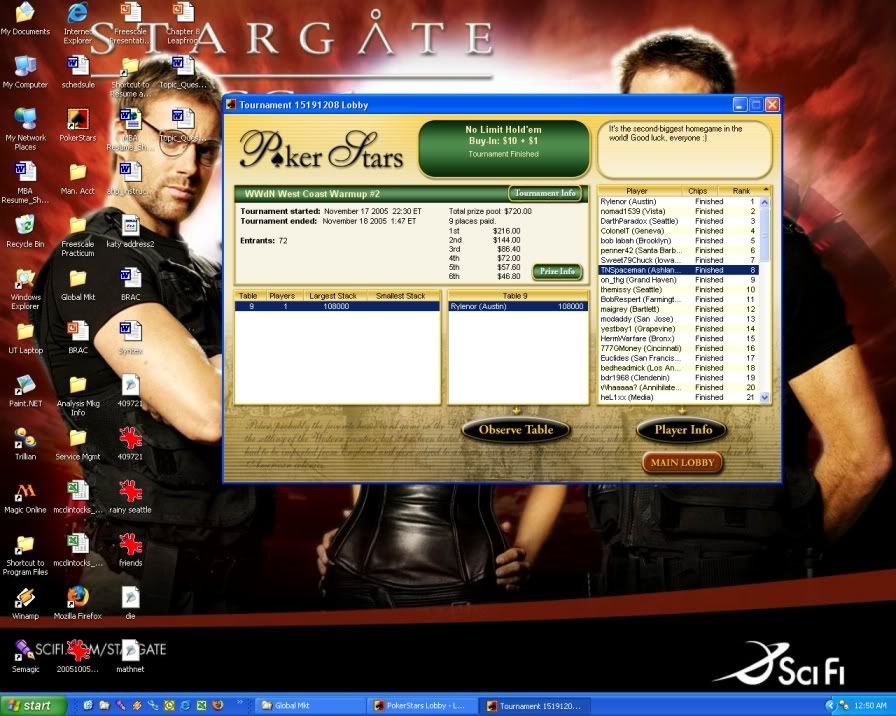 I got lucky around 3 times in the mid-game where I went all in and ended up being behind but caught a card on the river to pull out.

At the end, once there were three of us it was pretty steady for awhile, but then after getting a string of bad cards I decided to get aggressive when I stopped getting stuff like 3 9 off suit, and I think that was the key for me. I built up my chip lead as they folded a bunch of times, and then got it even higher by putting alot of pressure on then every hand I had something not totally crappy. Busted out Darth Paradox (who does a webcomic with ninjas and sea monsters and a very Moriarity looking villian), and then had A3 on the final hand to bust out my last opponent hitting an A on the flop and a 3 on the turn for two pair to his Queen high I believe it was.

Woo! $200 dollars richer baby!